Category archives: Science Fiction
by Feb. 15, 2010 in Books, Not Recommended, Science Fiction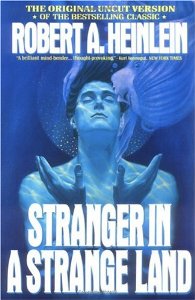 I've had Stranger in a Strange Land on my bookshelf for nearly 5 years now.  I have always wanted to read it, partly because I borrowed it from a friend and knew I should eventually give it back, and partly because it looked interesting.  So what has kept me from actually starting it?  Probably the fact that everyone I've asked about it says the same thing:  "It starts of great, but then it gets really weird."
Don't get me wrong, I enjoy weird.  Weird books are often some of the most fun.  Still, it was enough of a deterrent to keep it from ever moving it to the top of my never empty backlog of books.
So now that I have read it, what's the verdict?  They were exactly right.  Stranger in a Strange Land starts off excellent.  Unfortunately, this great start makes the second half that much harder to read.  There's a reason this book took me so long to read (nearly 3 weeks):  the last half is just a pain to slog through.
The story of Stranger centers around Valentine Michael Smith - a human born on mars and raised by Martians who gets brought back to Earth where he struggles to deal with his own foreignness in what should be his home.  Cool idea, right?  And it is, and when there's actually a plot happening (during the first half of the book) it's superbly entertaining.  Unfortunately, by the end it devolves into nothing more than a soapbox for Heinlein's ideas on sexual liberation.
I hate to say it, but I would not recommend this book.  There is one caveat, however.  If you can read just the first two parts, and not bother with the rest, there are a lot of interesting ideas, strong writing, and fascinating characters.  If you are like me, however, and hate to quit reading a book you start (especially one that starts so good) then don't bother picking this one up.
"I don't pay attention to politics."

"You should. It's barely less important than your own heart beat."

"I don't pay attention to that either" (33).
---
by Jan. 19, 2010 in Books, Recommended, Science Fiction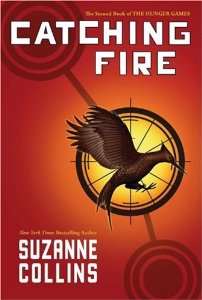 My friend Raina (a librarian) recently mentioned in a book review on Goodreads that the first book in a series has to be extremely good if she is going to read any sequels.  I found this interesting because this is absolutely not the case for me.  A book only has to be moderately enjoyable if I'm going to continue on in a series.  If I like even a single character, or if the plot is remotely interesting, I feel compelled to find out what happens next.
Is this a bad thing?  Sometimes, like when it results in reading terrible novels (His Dark Materials 2 & 3 come to mind), but for the most part I prefer it.  Sometimes it takes more than one book to really appreciate the depth of a character, or the subtleties of a plot.  Plus, I hate to think that I might miss out on a great sequel because of a bad first novel.
Regardless, this is all a moot point when it comes to Catching Fire.  The first volume in the series (The Hunger Games) is excellent.  No doubt if you read the first book, you've either finished the second already, …
---
by Jan. 13, 2010 in Books, Fiction, Recommended, Science Fiction
I'm posting this later than I originally hoped, but oh well.  You'll forgive me, won't you internet?
I think it's safe to say that I read more in 2009 than any year before.  It was both fulfilling and motivating to record my thoughts on books after I finished them, and so I don't have any intention of stopping in the future.  To recap the year, though, I'd like to provide you with my top books of the year, and leverage the database to provide you with some fun stats!
This "Best books list" is obviously the best books I read in 2009, not the best published in 2009.  I am aware of the flaws of working this way, but I can't imagine any other way of dealing with it!
In 2009 I read...
33 books
11298 pages
1 Comedy (255)
3 Fantasy (889)
5 Nonfiction (1348)
5 Juvenile Fiction (2015)
8 Science Fiction (3061)
11 Fiction (3730)
Now on to my favorite books of the year:
Favorite Audio Book:
This is an easy category.  Of the 30+ audio books I listened to this year none came close to The House of The Scorpion.  This young-adult fiction book tells …
---
by Jan. 12, 2010 in Books, Not Recommended, Science Fiction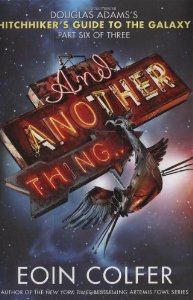 Eoin Colfer is an excellent author.  I don't know how to pronounce his name, but that hasn't stopped me from reading 9 of his books now.  My first introduction to Colfer was the Artemis Fowl series, which as of book 6, is still immensely entertaining.  I was afraid to pick up anything else by him, assuming it couldn't live up to the high expectations I had from the Artemis books.  Eventually I gave in and listened to Airman.  It was, quite possibly, even better than any and all of the Artemis books.
Even with Airman surpassing my wildest expectations I was shocked with how much I enjoyed Half Moon Investigations (more on this later - I just finished listening to this on cd).  With all that said, when I learned that Colfer was writing the sixth book in the Hitchhiker's Guide to the Galaxy trilogy, I was probably more excited than most Hitchhiker's fans.  I was confident that Colfer could pull it off.  He is, without a doubt, a talented, funny author.
I didn't like And Another Thing, and that makes me sad.  As I read through it, I wanted to like it.  I really did.  And it …
---
by Jan. 11, 2010 in Books, Recommended, Science Fiction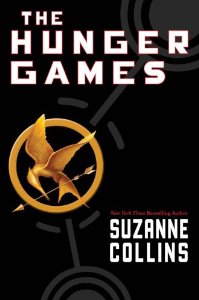 It's frightening to think about a book like The Hunger Games now that we are in year 2010 and officially in the future.  Normally when you read a book about a post-apocalyptic world in which an evil government forces children to fight other children to the death in order to show how much power they have, you can reassure yourself with the following: "Nothing to worry about!  That kind of thing only happens in the future."  Well guess what?  The future is now and, if Suzanne Collins has it right, it's brutal.
Well, maybe this future isn't here quite yet, but it's certainly something to think about.  Anyways, bleak children killing children future aside, The Hunger Games is quite captivating.  I received this book as a Christmas gift and finished it within just a few days.  It's an easy read, clearly meant for the teen reader, but great for any adult who wants to engross themselves in a world that is just far fetched enough to be exotic, without being ridiculous.
With that said, however, don't let my flippant attitude give you the wrong impression about this book.  It is brutal, with 20 plus children dying at the hands of …
---
by Dec. 10, 2009 in Books, Recommended, Science Fiction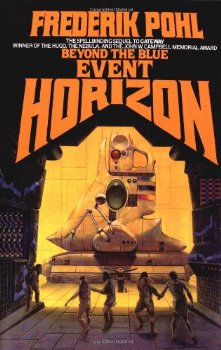 Beyond the Blue Event Horizon is a sequel to Gateway which I read (warning - spoilers) at the beginning of the year.  Beyond follows the characters from the first but, if you haven't read the first, that probably doesn't help that much so I'll give a brief outline of the universe in which these books are set.
Humans made their way into space, where they discovered the remnants of an ancient, super intelligent civilization.   Gateway is an asteroid from which people can launch into space in hopes of finding even more technology and thus becoming extremely rich.  Unfortunately, many people simply don't return from these flights.  In the first novel, Robinette Broadhead heads to Gateway to try his luck, and the sequel continues his story.
As I was adding this book to my "currently reading" section on Goodreads, I noticed a link to the author's (Frederik Pohl) blog.  I love the idea of authors blogging, especially if they have lead as interesting a life as Pohl has.  Definitely check it out of you are a sci-fi fan.
Speaking of being a sci-fi fan, you really need to be one to even consider reading this series.  While there are …
---
by Dec. 1, 2009 in Books, Recommended, Science Fiction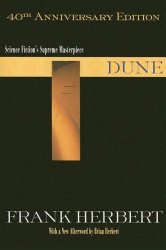 The first time I read Dune (this is the second), I remember it made me really thirsty. It also made me want to conserve water, so I stopped showering. I was in college at the time, though, so it was okay, no one noticed.
I didn't suffer the same level of obsession over water this time through, but I definitely still enjoyed it. I also had a theory, in college, that a connection could be drawn between Dune and Plato's Republic, but it didn't come through for me this time. It's probably still there, I just don't know my Plato as well anymore. If knowing I liked it enough to read it twice isn't enough of a recommendation, I will continue.
Dune is a very good book that is as much political infighting and intrigue as it is science fiction. There are definitely strong sci-fi components, but if you are a non sci-fi reader and can accept them, you will probably really enjoy the political aspects of this book. It may not be perfect (so close, though!) but it still holds its own as an enjoyable literary work, that may show non sci-fi readers how good this genre can be. …
---