Category archives: Fiction
by Feb. 4, 2010 in Books, First Line, Fiction, Recommended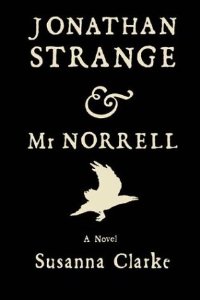 I think that far too often the first line of a book gets wasted on the reader (myself included). How often do we, when first cracking open a brand new book, stop to appreciate everything the author is trying to tell us right at the very beginning? Sure there are times when we are immediately captivated by some good writing, or by a novel that jumps right into the action, but do we really give enough time to what is literally setting the stage for everything to come?
With that in mind, I'd like to start a reoccurring feature on the blog: First Line. In these posts I will provide the first line of a book I have read (and hopefully many of you have as well) and discuss what it does right and wrong in context of the book as whole.  Don't worry, I won't be spoiling anything specific.  Instead, I'll be focusing on the tone, themes, etc. of the novel.  It's not exactly a review, either, because as we all know a book can start great and end terribly or start terribly and end great.  This is still in its infancy, so I'm open to suggestions as well.
For our first First I've chosen Jonathan Strange & Mr. Norrell.  This novel introduces itself to us with the following:
"Some years ago there was in the city of York a society of magicians."
There is so much contained within this little sentence, it's unbelievable.  The first thing that stands out to me is the straightforwardness of the claim that there were magicians.  There's no attempt to justify the claim or to convince the reader with flowery language.  It is merely a statement of fact that there was a society of magicians in York some years ago.
This may seem insignificant at first considering many books assume the lore they are based on, but it is a cornerstone for this book.  Strange is written as though it were a history book - a "true" account of the Napoleonic wars where magicians played a critical role.  We can see immediately that this book takes the idea of magicians, and their place in history, seriously.
In many ways it is what is left out of this first sentence that makes it so interesting.  It does not start with "Once upon a time in York there was a society of magicians."  No, this is no fairy tale, and we as the reader now know that we should not treat it as such.
There is a certain dryness of voice that is evident in this first sentence as well.  No embellishment is necessary when the facts themselves are interesting, an idea clear in this opener, and one which continues throughout the book.  Furthermore, it is this same dry tone that will be responsible for so much of the humor in the book.  History it may be, but that doesn't mean that it will be any less entertaining.
Ultimately, without even moving beyond the first sentence, Clarke has set us up for a book that, while humorous and entertaining, is meant to be taken seriously.  The footnotes, characters, and plot are only interesting if we allow ourselves to read them as though they are real.  If we look at this book and think "fantasy" it's merely a clever diversion.  If it's seen as "history", then it becomes a near masterpiece of writing.  Clarke obviously knew this, and she was preparing us as best she could from the very beginning.
So there you have it.  Let me know what you think - both about the first line of Jonathan Strange & Mr. Norrell and of the First Line concept as a whole.
---
by Jan. 29, 2010 in Books, Fiction, Recommended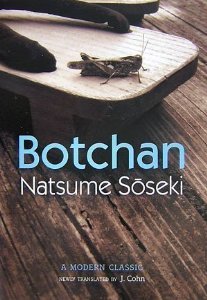 An introduction to a book can be a double-edged sword.  Sometimes it can be extremely useful and informative - as is the case with Botchan.  Here we have an introduction that reveals some of the subtleties of the translation that would not have been evident from the text itself.  For example the word Botchan, which is the nickname of the main character and narrator, can mean any of the following:  "a younger son; inexperienced or naïve; easygoing in a way that can either be mildly endearing or distressingly irresponsible" (5).
Clearly this is important information that is necessary to approach the text in a more fulfilling, meaningful way.  This introduction continues such usefulness as it gives clarification to the nicknames Botchan gives to his fellow teachers as well as some insight into why the book is so popular among Japanese readers.  All of this was interesting, without spoiling the content of the book.
On the other hand, sometimes introductions go a little overboard.  My favorite book to recommend, I Am a Cat is a perfect example.  At first the introduction seems to just offer clarification on translation issues but suddenly it gives away the ending of the book, and …
---
by Jan. 22, 2010 in Audio Books, Books, Fiction, Recommended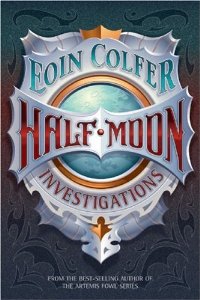 Before we headed to Pennsylvania for Christmas vacation, Vanessa and I picked up the audio book versions of the first Artemis Fowl, Harry Potter and the Goblet of Fire, and Harry Potter and the Deathly Hallows from our local library.  These were meant to be safe, guaranteed good listens for the many hours of driving we were going to have to do up north.  Unfortunately, I left them at home and when we arrived in PA, with a four hour drive looming on the horizon, we were feeling a little nervous.
Vanessa's mom, and her trusty library card, came to the rescue, however, and while we prepared for the drive she went to her library to pick up "any Artemis Fowl book you can find" (we have read and enjoyed them all, so we weren't going to be picky at this point).  While she did find the first Artemis book, she accidentally grabbed the book you see to the left as well - Half Moon Investigations. Since we had not ever read this one before, and we were feeling adventurous, we decided to give Half Moon a go.  We made the right decision.
Half Moon Investigations is …
---
by Jan. 13, 2010 in Books, Fiction, Recommended, Science Fiction
I'm posting this later than I originally hoped, but oh well.  You'll forgive me, won't you internet?
I think it's safe to say that I read more in 2009 than any year before.  It was both fulfilling and motivating to record my thoughts on books after I finished them, and so I don't have any intention of stopping in the future.  To recap the year, though, I'd like to provide you with my top books of the year, and leverage the database to provide you with some fun stats!
This "Best books list" is obviously the best books I read in 2009, not the best published in 2009.  I am aware of the flaws of working this way, but I can't imagine any other way of dealing with it!
In 2009 I read...
33 books
11298 pages
1 Comedy (255)
3 Fantasy (889)
5 Nonfiction (1348)
5 Juvenile Fiction (2015)
8 Science Fiction (3061)
11 Fiction (3730)
Now on to my favorite books of the year:
Favorite Audio Book:
This is an easy category.  Of the 30+ audio books I listened to this year none came close to The House of The Scorpion.  This young-adult fiction book tells …
---
by Jan. 4, 2010 in Books, Fiction, Not Recommended
I remember when the movie Blindness came out a few years ago, I thought "what a fascinating idea - everyone in the world suddenly goes blind except for a single woman!"  Once I learned it was originally a book, I decided to forego watching the movie, and decided to just read the book it was based on.  It turns out I was right - it is a fascinating idea, if not repulsive.  Jose Saramago's vision of a society stricken blind is quite disturbing.
Unfortunately, while Blindness is a well-written, fascinating, disturbing book, it's simply annoying and unpleasant to read.  Saramago makes some stylistic choices (which I assume are meant to convey to the reader what it's like to lose one of your senses) that create an obnoxious reading experience.  Combine that with the disturbing content and it's officially not fun on all accounts.  With that said, however, if you love to see the depravity of the human spirit, and want a book structured so that it is purposefully difficult to read, Blindness is for you, and I recommend it with all confidence that you will "enjoy" it.  For the rest of us, don't bother.
"This is the stuff we're made …
---
by Dec. 3, 2009 in Books, Fiction, Recommended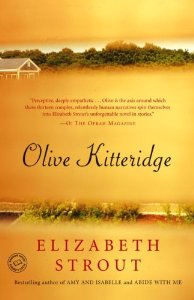 I knew nothing about Olive Kitteridge before reading it except that it was a Pulitzer Prize winner and that my sister-in-law enjoyed it when she read it for her book club.  I enjoy going into books blind this way, and try to do it whenever possible.  That's part of the reason many of my descriptions and posts here will be pretty vague.  I don't want to give away anymore than is absolutely necessary to get you interested in the book.
With that said, I'm not going to tell you anything about Olive Kitteridge except that it is a Pulitzer prize winning novel and both my sister-in-law and I liked it.
Okay, that's not all I'm going to tell you, but I won't give away the plot.  What I will say is that it is a refreshing novel that does interesting things with character development and narrative structure that make it worthy of all the praise it has received.  Give it a shot, especially if you love small town American fiction, and I doubt you will be disappointed.
"Nobody knows everything – they shouldn't think they do" (74).
---
by Dec. 1, 2009 in Books, Fiction, Recommended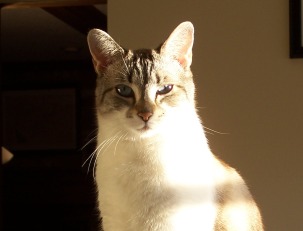 Before I started reading I Am a Cat, I was afraid that I would not be able to relate to it. After all, commentary and parody of the social upheaval in Meiji era Japan is not something that strikes me as approachable. It was immediately clear, though, that I had nothing to worry about. The cat himself was endearing and believable. Furthermore, the observations he made and the comments in general about humanity were not limited to Meiji era Japan, but rather things we could all relate to.
In terms of structure, I Am a Cat is actually a collection of 11 short stories, all told from the perspective of a nameless cat. His observations cover a wide variety of subjects, from the residents of his household, to local cat politics. Ultimately, I'm not going to do this book justice summarizing it here, so I'll let the cat do it himself:
"At ordinary times, most human beings are wearisomely ordinary; depressingly banal in appearance and deadly boring in their conversation. However, at certain moments, by some peculiar, almost supernatural, process their normal triviality can be transformed into something so weird and wonderful that no feline scholar of their species …
---
by Dec. 1, 2009 in Books, Fiction, Recommended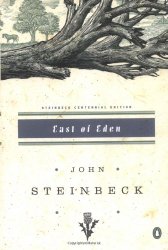 I borrowed this copy of East of Eden from my grandfather about ten years ago. I had just finished reading, and enjoying, Grapes of Wrath and so I figured this was an obvious next choice. Ten years later it turns out I was absolutely correct.
East of Eden tells the story of two families, Hamilton and Trask, as they live in Salinas Valley, California. It is both epic, and intimate. It does so many thing right, that it's hard to speak generically about it without giving away parts of the book that are better experienced first hand.
So, if you are a fan of Steinbeck's other works, don't hesitate to give this a read. It is fantastic. Even though it is the not the most recent book I have read, I'm leaving up here in the Featured Books section for now because it is just that good. And now, a quote from Samuel Hamilton:
"And I made a promise to myself that I would not consider enjoyment a sin. I take a pleasure in inquiring into things. I've never been content to pass a stone without looking under it. And it is a black disappointment to me that I can …
---