Category archives: Fantasy
by June 2, 2010 in Books, Fantasy, Not Recommended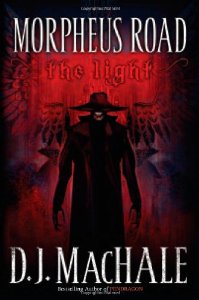 I love reading young adult fiction while on vacation.  Last Christmas I tore through The Hunger Games in less then 36 hours, and it was absolutely fantastic.  I didn't know much about The Light, but I have listened to the first three books in MacHale's Pendragon series, and they are good enough that I was willing to give this new series a chance.
The Light is, ultimately, a ghost story.  In fact, the book starts with a hip "I believe in ghosts now" intro.  From there, it follows Marsh, the main character and narrator, as he attempts to solve the various mysteries surrounding his haunting and his best friend's disappearance.
While The Light was the fun, light reading I was looking for in a vacation book, it was also extremely disappointing.  In spite of having an entirely different storyline and cast of characters, The Light felt exactly the same as the Pendragon books.  In fact, in terms of the main character, there wasn't anything to distinguish Marsh from Bobby Pendragon.
MacHale certainly isn't a bad writer, but I'm starting to get the impression that his versatility is severely limited.  If you aren't absolutely in love with novels narrated by smart, sarcastic, angsty 15 year olds, who are just trying to figure out this crazy world, then I wouldn't bother with The Light, or anything else written by MacHale.
It's unfortunate, too, because he has some great plot ideas.  I may even continue listening to the books in this series, just to find out what happens next, but I definitely won't be reading them next time.  Is that hypocritical, to continue reading a series that I won't recommend?  Perhaps, but I am a sucker for a cliffhanger.
---
by May 10, 2010 in Audio Books, Books, Fantasy, Recommended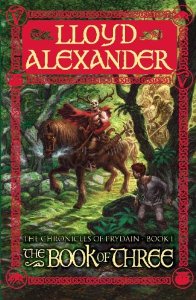 I can't exactly remember who or what referred me to The Book of Three.  All I know is a few weeks ago I received a "the book you placed on hold is now available" email from the library and so I went and picked it up.
The Book of Three tells the story of a young assistant pig-keeper named Taran who lives in a mythical realm known as Prydain.  If you have seen the movie "The Black Cauldron" you have seen a movie loosely based on this book.  (Interesting note - the second book in this trilogy is actually called The Black Cauldron, but the movie of the same title is based on the first book.  Go figure).  Anyways, Taran has to recover his lost pig, but ends up having a grand adventure along the way.
The story is your classic hero quest, but what makes this book so good is the plethora of interesting characters.  From the sassy and hilarious Eilonwy, to the pathological liar/bard/king Fflewddur Fflam, The Book of Three is absolutely bursting with entertainment.  By the end, the story was just a means for placing these great characters into situations in which they could interact …
---
by April 26, 2010 in Books, Fantasy, Not Recommended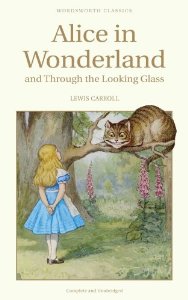 So I've done something for the first time since starting my book database - I've given up on a book.  I started reading Alice's Adventures in Wonderland over the weekend, put about 60 pages into it, and decided that was enough.  Don't get me wrong, I'm not saying the book is terrible or anything, but I just couldn't get into it.  It was imaginative, bizarre, and absurd (in a good way), but it didn't captivate me.
I realized I wasn't having any fun, and a book like Alice seems like it should be all about fun, so I've decided to move on to one of the many other books I have on hand.  What's interesting is it's definitely NOT the worst book I've read in the last two years.  I guess I don't think it's fair to read this classic when I'm clearly not in the mood for it.
My question for you, though, is "What's wrong with me?" Am I missing the innocent imagination of childhood required to become engrossed in Alice?  Or is it just something about my current mood that makes the book unpalatable at the moment?  I know there are some out there who must …
---
by April 23, 2010 in Books, Fantasy, Recommended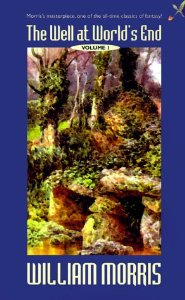 We spent Easter weekend with some friends in Denton, TX.  While there, I had the opportunity to go to the best used book store I've ever seen:  Recycled Books.   In addition to being clean, well-organized, and having the most amazing selection of books, they also had a wide array of collector's items.  As I was perusing the fantasy/sci-fi collector's section, my attention was drawn to The Wood Beyond the World by William Morris.  I glanced at it, saw that it claimed to be "the first fantasy novel ever written", but decided to put it back and picked up The Well at the World's End instead.  I didn't know anything about this book, but it fascinated me for some reason.  Plus, the back had a quote by C.S. Lewis saying it was great.  That, plus the $4 price tag, were enough to sell me.
All that said, I probably should have actually read some of the book to see if I would enjoy it, rather than buying it blindly.  I was quite shocked when I opened it up and the first thing I read was "Long ago there was a little land, over which ruled a regulus or kinglet, who …
---
by April 7, 2010 in Books, Fantasy, Recommended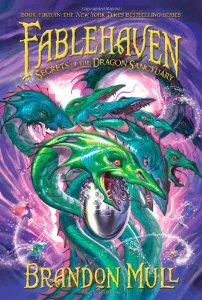 First of all, I apologize for the recent lack of updates.  Between traveling, Easter, and being sick I've been reading a lot, but not writing much.  I have a nice little backlog of finished books, though, so hopefully I'll be able to catch up and post some more over the next few weeks.
Now onto Secrets of the Dragon Sanctuary.  I don't actually know what else I can say about the Fablehaven books that I haven't said previously.  They are fun, creative, exciting books that are perfect when you want something that is well executed, but does not requiring extensive emotional investment.
I guess the most important thing I can share with you at this point is as of the 4th (and penultimate) volume in the series, they are still very enjoyable.  I didn't find myself captivated quite as quickly with this book as I have with the first 3, but I ended up there eventually.  So, if you are a fan of fun juvenile fiction that mixes magic and realistically developed characters, give the Fablehaven series a shot.  And if you have been reading the series, send me an email so we can make up wild theories …
---
by March 25, 2010 in Audio Books, Books, Fantasy, Recommended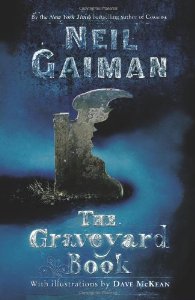 I have a weird relationship with Neil Gaiman's books.  His stories always fascinate me conceptually, but upon reading them, I'm inevitably underwhelmed.  That isn't to say his books are bad, just not as great as I hope they will be upon reading a plot summary.
The Graveyard Book suffers this same small letdown.  The idea - a young boy, orphaned after the brutal murder of his family, is raised by the ghosts that inhabit a nearby graveyard - is pretty awesome.  The execution, while still very entertaining and enjoyable, is just enough less awesome to be disappointing.  Maybe I expect too much from Gaiman, but if that's the case it's his own fault for having such awesome ideas.
The best part about The Graveyard Book is how it celebrates life through the constant presence of death.  This theme emerges so naturally from the content of the book that it doesn't ever feel cliche or preachy.  Gaiman also ties everything together nicely in the end.  Unfortunately, there are too many parts that drag along the way to make it excellent from beginning to end.
On the whole this a good book and, if you choose to go with the audio version, …
---
by March 4, 2010 in Books, Fantasy, Recommended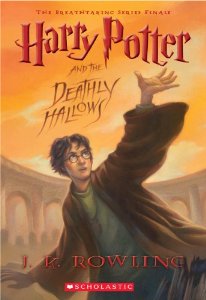 Note:  the following discussion spoils certain aspects of the entire Harry Potter series.  Please don't keep reading if you don't already know what happens, unless you don't mind having it spoiled.
There is a chapter in How to Read Literature Like a Professor called "Marked for Greatness" that discusses how heroic, important characters are literally marked for greatness.  Several examples are given, but at the end the author asks why does Harry Potter have a scar?  What does this scar represent beyond the fact that Voldemort tried to kill Harry after murdering his parents?  I've thought about this over the last week and I have some ideas I'd like to share.
There is, of course, the obvious meaning evident upon a surface reading - the scar is the physical reminder of Voldemort's failed attempt to murder Harry.  Beyond that, at a slightly deeper level, the mark also reveals the connection between Voldemort and Harry.  We eventually learn that this connection is so strong that Voldemort is literally a part of Harry.
All of this makes sense, and is fairly evident in the text itself.  However, the question of why Harry Potter has a scar is still not really answered.  After …
---
by Feb. 1, 2010 in Audio Books, Books, Fantasy, Recommended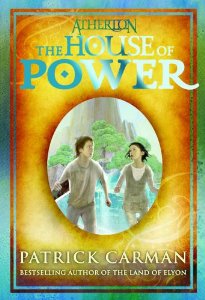 I absolutely hate not having an audio book to listen to in the car.  For over 2 years now I have exclusively listened to books while driving.  About a month ago, however, I found myself on the way to the grocery store just as I was finishing the last book I had in the car.  Desperate, I decided to stop at the nearest library to pick something up (typically I reserve books beforehand to ensure I get something of high quality).
I normally stop at a library near my office, so this was not one I had ever been to before.  While searching, I came across the book you see to the left - The House of Power by Patrick Carman.  This caught my eye because I have read and enjoyed The Land of Elyon which was also written by Carman.  It turned out to be a pretty good decision.
At this point I have finished all three books in the series (The House of Power, The Rivers of Fire, and The Dark Planet), and I enjoyed them all quite a bit.  The Atherton series follows the adventures of an orphan boy named Edgar who loves to climb. …
---
by Dec. 16, 2009 in Audio Books, Books, Fantasy
I am constantly listening to books on cd in the car.  Literally, all the time.  I do not listen the news, music on the radio, or music on cd.  I don't sit it silence as I make my way to and from work.  There is always a book on, and there is always at least one in queue.  I didn't start keeping track when this book on cd endeavor began (Thanksgiving of 2007, on a trip to Dallas) but if my memory is correct, I have listened to 68 books on cd since then, with 69 and 70 in the car at the moment.  This does not include multiple listens to the same book (which has definitely occurred with books in the Harry Potter and Artemis Fowl series.)
So with that said, why don't I have entries for all of these in the database since that is meant to be a repository of all the books I've read?  This may seem ridiculous, as some have pointed out, but I don't think it's fair to these books to put them in the database.  I don't pay nearly as much attention to them as I do to the books I actually read …
---
by Dec. 2, 2009 in Books, Fantasy, Recommended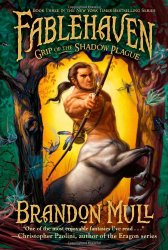 This is book three in the Fablehaven series. If you have read the first two, and are considering the third, it should come as no surprise that I recommend picking it up. So far each book has been exciting, imaginative, and non-stop entertainment.
If you haven't read any of the Fablehaven books and are wondering if you should start, I say yes. From the very beginning, I have been captivated by Mull's books. Plus, they are so quick and easy to read that, if you don't like the first one, it will only take you a day or two to finish the book and realize it's not for you.
They are each full of magic and wonder, and serve as an excellent palate cleanser between books that require more effort as the reader. That isn't to say Grip isn't good, or worthwhile, just that it serves to remind you how fun reading can be, like Harry Potter, and not how beautiful and heartbreaking a book can be the way I Am a Cat might.
Sorry, no quote on this one!
---