Category archives: Books
by Feb. 28, 2012 in Books, Fantasy, Not Recommended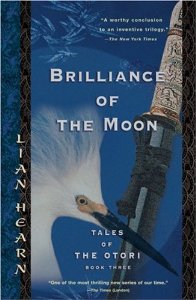 It isn't a good sign when you start a review of a book as follows: There's something about writing a bad review that is always easier than writing a good review. If you ask me why my favorite books are my favorites, my discussion will devolve into mumblings about them being 'so good'. Mediocre, unforgettable books can also be troublesome to articulate. But whenever I come across a book that I think is full of flaws and that I generally dislike, I feel like I could write for hours. Such is Brilliance of the Moon, the third book in the Tales of the Otori series by Lian Hearn.
I've thought a lot over the last week about why I didn't enjoy this book, especially since I enjoyed so much about the first in the series. I think part of the answer is in the question itself: I really liked the first book, so my expectations were high for the rest of the series. Ok, that's fair, but why did the second and third not meet my high expectations?
In the first I enjoyed the magic and mystery surrounding the Tribe abilities, I enjoyed watching Takeo learn about them and himself, and I enjoyed the tension surrounding the decisions he was forced to make in respect to the teaching so Shigeru, the Tribe, and his mother.
In this book, however, there is no discovery or mystery surrounding the abilities. They are suddenly taken for granted. Perhaps Takeo no longer finds them interesting, but there are numerous other characters who do. A great example is Taku, the son of Shizuka. At one point Takeo even remarks about how he wants Taku to be the first of many children spies. Now that sounds interesting – why not pursue the avenue of Takeo as the teacher instead of the student? How would he teach compared to the Tribe? Would he instill compassion and mercy in his students, instead of the cruelty the Tribe taught? This is a much more interesting dilemma compared to hundreds of pages of Takeo running from Arai.
I have numerous other complaints about the book, and you can read those in the spoiler-filled database entry. Suffice it to say, I do not recommend this book, no matter how much you may have enjoyed Across the Nightingale Floor.
---
by Feb. 22, 2012 in Books
The LA Times recently posted an article about how Penguin has pulled their eBooks from overdrive, meaning they are no longer available to borrow from many libraries (including my own). It seems to me everyone (except maybe the libraries who probably are actually interested in helping people read more digital books) is doing something wrong with library lending.
First, Publishers: why do you force such strict DRM on library eBooks? If I wanted to steal your book (which I don't), I certainly wouldn't be going to the library to do so. I'm going there because it's a simple, legal, and locally supportive thing to do. So don't put restrictive DRM on the item you claim you want me to read that prevents me from putting it on whatever device I want.
In the same way, Amazon: don't be so restrictive on the types of eBooks I can put on my Kindle. It's fully capable of handling ePub books, and the more you get me using the device by allowing it to read anything the more likely I am to buy future books from Amazon.
Amazon: don't require that I have to go to your website …
---
by Feb. 16, 2012 in Books, Fantasy, Recommended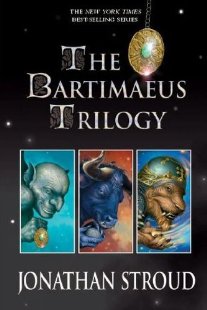 I picked up The Amulet of Samarkand last year, the first book in the Bartimaeus trilogy, on a total whim. No one recommended it, and I knew nothing about the book or its author. I simply needed a new audio book and the description looked interesting enough. Grabbing a book like this can be risky, but when it pays off, it's great. Reading an excellent book with no preconceived notions is one of my things as a reader.
The premise: Nathaniel is an up and coming wizard in London. The twist in this magical world, however, is magicians get their power from enslaving demons from "the other place". Bartimaeus is one such demon, or a djinni to be more specific, who Nathaniel summons early on in his magical career. This makes for an interesting story in and of itself, but what makes the Bartimaeus trilogy so great is Bartimaeus himself.
The books transition between being told from third-person omniscient for "Nathaniel" chapters and first-person for "Bartimaeus" chapters. Of course, if you ask Bartimaeus he might tell you that his sections are from an omniscient perspective as well, such is his charming over-confidence. He's sarcastic, ironic, and just …
---
by Feb. 6, 2012 in Books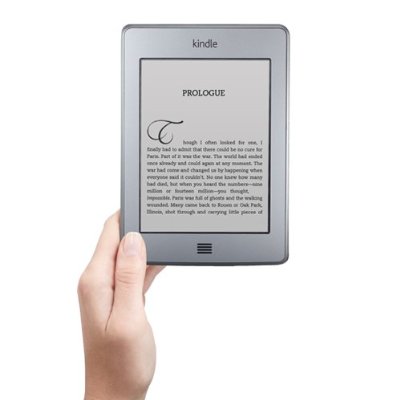 I received a Kindle Touch for Christmas and over the last month I've read four books on it. I absolutely love reading on the Kindle and would actually prefer to read every book on the device if I had the choice. There are several reasons why:
The Kindle is lighter than even the lightest paperback
I can look up the definition of words instantly
I can highlight passages and take notes without needing a pen and notebook nearby.
Highlighted passages and notes can be manually or automatically sent to my computer for easy inclusion in database entries or blog posts
I can carry around hundreds of books in my pocket
The font size is always exactly how I want it.
There are still lots of great things about reading a physical book, such as the smell, the feel, the cover art, but in general, I do think the actual experience of reading a book on a Kindle is superior. So, if that's the case, why have the last three books I've purchased been paperbacks? Easy – the pricing on the Kindle editions of books is completely ridiculous. Publishers seem to completely miss the point of electronic editions of books, and …
---
by Jan. 31, 2012 in Books, Fantasy, Not Recommended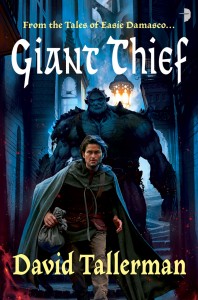 Note: An electronic copy of Giant Thief was provided to me for review by the publisher Angry Robot Books.
Easie Damasco is a scoundrel and an thief, and everyone seems to want him dead. Despite near constant threats to his life, nothing deters him from continuing his life of crime at every possible moment. As a result, Giant Thief is a fast-paced, non-stop action fantasy novel full of comedy that never lets up from beginning to end.
From the first line, we learn a lot of what we can expect from Giant Thief: "The sun was going down by the time they decided to hang me." This is a great opener – we immediately learn that Easie is the type to look at even the most serious situations in a carefree manner. Also, we see that he's the type of guy who puts himself in a position where people want him dead. Unfortunately, this quick-draw opening and the subsequent chase actually left me a little bewildered. Who is Easie? Why should I care whether or not he is captured and killed? Even by the end I felt like I had only scratched the surface of understanding Easie as a …
---
by Jan. 25, 2012 in Books, Fiction, Recommended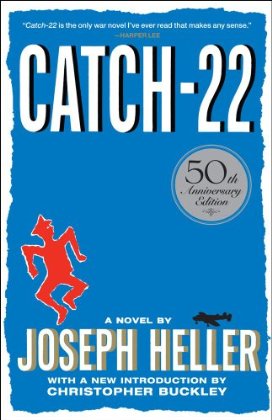 You've just read a book so good that you want everyone else to read it immediately, but you know that if you approach the subject with too much enthusiasm, you risk overselling the book and causing the opposite outcome. In fact, the more you say, the more likely you'll mention something that person hates about books, thus ensuring they never read it. Or, in your haste and excitement, you might offer your own rash interpretation, implying the book is about something it isn't, and thereby cause yet another person to pass on a wonderful piece of literature. Such is the unresolvable dilemma I find myself in with Catch-22.
Suffice it to say, I absolutely loved reading this book. It starts slowly, as Heller's writing style (and the way he jumps back and forth through time) has its own unique rhythm. Once you grow accustomed to it, however, it becomes utterly engrossing. This is an especially odd thing to say because there's nearly zero plot in the book. Instead, it focuses almost entirely on characters, and the crazy, bizarre, emotional, disturbing, horrifying, hilarious antics that fill their lives during war.
Yes, Catch-22 is a book about war. Or rather, it …
---
by Jan. 12, 2012 in Books, Recommended, Science Fiction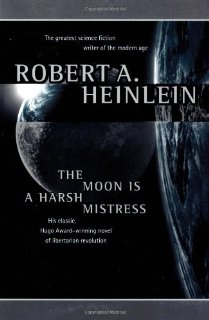 I read Robert Heinlein's Stranger in a Strange Land last year and I didn't enjoy it, despite its strong start. In addition to my disappointment over the book, I was also surprised by the fact that I didn't like it. Here we had what is considered one of the greatest science fiction books of all time, and all I can do is criticize it for being heavy-handed and dull. Shouldn't this be exactly the kind of thing I love to read?
Since my experience with Stranger last year, I really had no intention of reading anything else by Heinlein. Still, he is considered a master in the genre and there were definitely some promising aspects to Stranger. And if C.S. Lewis is right when he says you can't criticize a book the first time to read it (shh...don't tell him I do that every time), I certainly don't have the right to ignore everything else by Heinlein just because of one reading of one book.
And a good thing I didn't give up on him, because everything Stranger gets wrong, The Moon is A Harsh Mistress gets right. Mistress tells the story of Mannie, a computer technician who …
---
by Jan. 9, 2012 in Books, Fiction, Science Fiction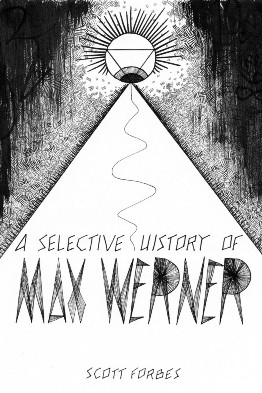 Max Werner, 15, can see in the dark - a secret not even his best friend Tom knows. More sly than brave, Max has used his special gift for years to roam the streets of his neighborhood committing petty crimes and various acts of harmless delinquency. He prefers hiding from danger, safe in the shadows that only his sight can penetrate, rather than confronting anything head on.
His misdeeds bring him more than a few stolen goods, however, when he runs across a band of inhuman thieves that don't take kindly to Max invading their territory. These strange bandits kidnap Max's little sister as punishment for his indiscretion, forcing him to put what little courage he does have to the test.
Afraid to make the rescue attempt alone, Max must first convince Tom to join the adventure. Even with his perfect night vision, the giant spiders, bottomless pits, and blood-thirsty criminals that stand between Max and his sister may mean that none of them make it out alive.
A Selective History of Max Werner is a young adult adventure for all those who have ever wondered what secrets lay in the deepest shadows, the blackest cave, or the darkest night. …
---
by Dec. 17, 2011 in Books, Fantasy, Not Recommended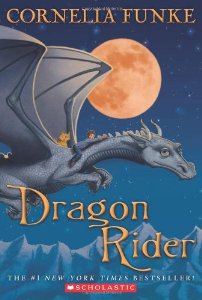 I think it's important to note that I listened to the audio version of this book because it is, without a doubt, the reason I disliked it so much. Funke's story seems pretty good, and if I had read it, I imagine it would have been closer to 3 or 4 stars.
However, it must be said that the narrator Brendon Fraser is, unequivocally, the worst narrator I have ever heard in the 150+ audio books I have listened to over the last few years. Here are just a few examples of why he is so bad:
He smacks his lips and chews loudly when characters are eating.
He coughs, moans, grunts, squeals, etc. even when the text does not imply these things are happening.
When the text does note coughing, etc. he exaggerates them needlessly and tediously.
Every piece of dialogue is overacted and extravagant for no reason.
My guess is that Fraser doesn't actually enjoy reading, and so he feels the need "spice up" the book in order to make it entertaining. Maybe others who don't often read would enjoy this type of narration, but it was endlessly frustrating and nearly impossible to get through in spite of …
---
by Oct. 31, 2011 in Books
In spite of not posting here for nearly a year, I have been doing a lot of work on the back end functionality of the book database. The biggest and most visible feature is a change to how quotes are being stored. Originally, all quotes were tied to specific "reads" of a book. Now, however, they are separated out into their own table, which gives me a lot more freedom to deploy them independently.
The upshot of all this is that I have deployed a new quotes page which lets you search for quotes by book, by quote type (I will be adding the first and last line to every book I read in addition to any favorite quotes), by author, or even by keyword. You can also choose to restrict the results to only show quotes that will fit into a tweet. I've also provided the means to permanently link to a quote so you can refer to it in the future and to download all the quotes in the database as a .csv file in the event that you want to do your own thing with them.
I will be continuing to go through and adding the first …
---