Category archives: Audio Books
by March 18, 2014 in Audio Books, Books, Earning the Ending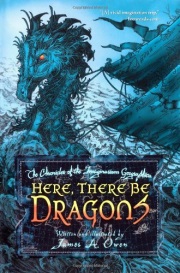 I have previously stated that I think the first line of a book is extremely important. However, for as critical as the first line may be, the ending is even more significant. It's what sticks with you, and in many cases, it determines what you think of the book when you reflect upon it.
In this new feature I'll be discussing the ending of various books, and whether or not I think they "earn" their ending (in the case of a strong ending), or if it is a let down compared to the rest of the novel. Obviously, as I'm discussing the ending of the book, there will be spoilers, but I think endings are important for readers and so we shouldn't shy away from potentially spoiling them. Plus, this book specifically is rather bad, and so I don't feel guilty for potentially ruining the ending and discouraging you from reading it.
For our first entry (and the one that inspired the feature) I'd like to talk about Here, There be Dragons by James A. Owen. This is the first novel in the Chronicles of the Imaginarium Geographica series, and it tells the story of John - a young man who becomes the caretaker of the Imaginarium. As the caretaker, he and his friends must travel to the archipelago of dreams (the land of imagination and story), and protect it from evil.
While there John and his friends (Charles and Jack) must find a magical ring and stop an evil sorcerer. If this simple summary sounds reminiscent of anything, it's not a coincidence. It turns out that John is J.R.R. Tolkien, Jack is C.S. Lewis, and Charles is Charles Williams. As the brightest literary minds of the age, they are the caretakers of the Imaginarium, just as H.G. Wells and Charles Dickens (among others) were before them.
This revelation, and the idea of following Tolkien and Lewis on their own grand adventures, may strike you as pretty great. And it is! When I heard this ending I was completely swept up in it. But, at the same time, therein lies the problem. The rest of the book was bland and boring. It dragged along, feeling both cliche and unexciting. Unfortunately, as a result of the mediocre nature of the rest of the book, the twist ending left me more annoyed and offended than it did excited.
How dare this author co-opt some of the greatest authors of the 20th Century and make their stories his own? How dare he imply that the real story behind The Lord of the Rings was this adventure that Tolkien went on as the caretaker of the Imaginarium? You can't simply take well-beloved authors and stories, and insert them into your story to make up for your otherwise lacking novel. It offends the reader, and it offends the legacy of the authors themselves.
Here, There be Dragons is not a good book, and a twist ending that plays on the strength other stories does not justify the rest of the novel. This book does not earn its clever ending, and I'm offended as a fan of the authors and stories it uses to its own advantage. Great endings don't exist in a vacuum - they must be earned by the story being told, and Here, There be Dragons does not live up to its clever ending.
---
by June 21, 2010 in Audio Books, Books, Fantasy, Recommended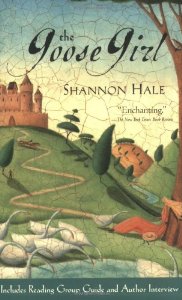 Goose Girl is not the type of book that would normally catch my eye.  However, after reading Christy's review of the sequel I figured it would be worth requesting from the library and listening to it when I got the chance.  I had it for a few weeks and, honestly, I didn't have a plan to start it anytime soon until I saw Erin's claim that Shannon Hale "has not written a bad book".
Convoluted story of why I started reading it aside, I'm really glad that I did.  Goose Girl seems pretty straight forward at first - a crowned princess of a small kingdom is, unbeknownst to her, about to be sent off to marry the prince of a distant kingdom.  As the story progressed, though, I was consistently impressed both with the number of times the plot surprised me and with how well-realized the world and characters were.
True, I've only read one book by Shannon Hale now, but I can see why Erin would say she hasn't written a bad book.  In addition to a consistent, deep world full of entertaining characters, Goose Girl is also filled with some beautiful writing.  Even the first line ("She was …
---
by May 10, 2010 in Audio Books, Books, Fantasy, Recommended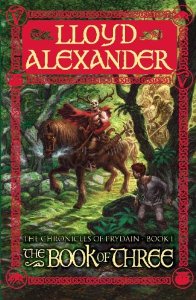 I can't exactly remember who or what referred me to The Book of Three.  All I know is a few weeks ago I received a "the book you placed on hold is now available" email from the library and so I went and picked it up.
The Book of Three tells the story of a young assistant pig-keeper named Taran who lives in a mythical realm known as Prydain.  If you have seen the movie "The Black Cauldron" you have seen a movie loosely based on this book.  (Interesting note - the second book in this trilogy is actually called The Black Cauldron, but the movie of the same title is based on the first book.  Go figure).  Anyways, Taran has to recover his lost pig, but ends up having a grand adventure along the way.
The story is your classic hero quest, but what makes this book so good is the plethora of interesting characters.  From the sassy and hilarious Eilonwy, to the pathological liar/bard/king Fflewddur Fflam, The Book of Three is absolutely bursting with entertainment.  By the end, the story was just a means for placing these great characters into situations in which they could interact …
---
by March 25, 2010 in Audio Books, Books, Fantasy, Recommended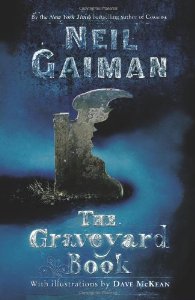 I have a weird relationship with Neil Gaiman's books.  His stories always fascinate me conceptually, but upon reading them, I'm inevitably underwhelmed.  That isn't to say his books are bad, just not as great as I hope they will be upon reading a plot summary.
The Graveyard Book suffers this same small letdown.  The idea - a young boy, orphaned after the brutal murder of his family, is raised by the ghosts that inhabit a nearby graveyard - is pretty awesome.  The execution, while still very entertaining and enjoyable, is just enough less awesome to be disappointing.  Maybe I expect too much from Gaiman, but if that's the case it's his own fault for having such awesome ideas.
The best part about The Graveyard Book is how it celebrates life through the constant presence of death.  This theme emerges so naturally from the content of the book that it doesn't ever feel cliche or preachy.  Gaiman also ties everything together nicely in the end.  Unfortunately, there are too many parts that drag along the way to make it excellent from beginning to end.
On the whole this a good book and, if you choose to go with the audio version, …
---
by Feb. 9, 2010 in Audio Books, Books, Fiction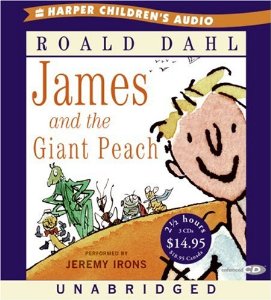 I just finished 2 more audio books in the last week: James and the Giant Peach by Roald Dahl and The Black Circle (The 39 Clues Book 5) by Patrick Carman.
First up - James and the Giant Peach.  This is another book that I'm sure I read dozens of times when I was growing up (or at least had read to me dozens of times), but had no clear memory of.  Obviously there was a giant peach involved, and I thought I remembered it flying, or something, but that was about it.
If you are in the same boat, you really should pick this up and give it a read.  It would probably take a couple hours at most, but it will be a fun, refreshing two hours.  It's obvious why this imaginative, exciting book is considered a children's classic.
Though James is entertaining in his role as the titular character, it is his giant insect friends who make the book.  I caught myself laughing out loud at their antics all the way up to the end.
As for the audio side of this audio book, Jeremy Irons is wonderful.  He brings each of the characters to …
---
by Feb. 1, 2010 in Audio Books, Books, Fantasy, Recommended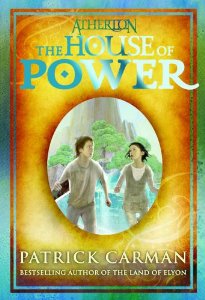 I absolutely hate not having an audio book to listen to in the car.  For over 2 years now I have exclusively listened to books while driving.  About a month ago, however, I found myself on the way to the grocery store just as I was finishing the last book I had in the car.  Desperate, I decided to stop at the nearest library to pick something up (typically I reserve books beforehand to ensure I get something of high quality).
I normally stop at a library near my office, so this was not one I had ever been to before.  While searching, I came across the book you see to the left - The House of Power by Patrick Carman.  This caught my eye because I have read and enjoyed The Land of Elyon which was also written by Carman.  It turned out to be a pretty good decision.
At this point I have finished all three books in the series (The House of Power, The Rivers of Fire, and The Dark Planet), and I enjoyed them all quite a bit.  The Atherton series follows the adventures of an orphan boy named Edgar who loves to climb. …
---
by Jan. 22, 2010 in Audio Books, Books, Fiction, Recommended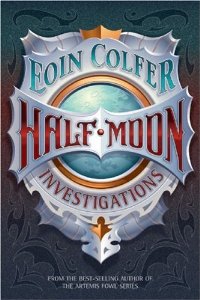 Before we headed to Pennsylvania for Christmas vacation, Vanessa and I picked up the audio book versions of the first Artemis Fowl, Harry Potter and the Goblet of Fire, and Harry Potter and the Deathly Hallows from our local library.  These were meant to be safe, guaranteed good listens for the many hours of driving we were going to have to do up north.  Unfortunately, I left them at home and when we arrived in PA, with a four hour drive looming on the horizon, we were feeling a little nervous.
Vanessa's mom, and her trusty library card, came to the rescue, however, and while we prepared for the drive she went to her library to pick up "any Artemis Fowl book you can find" (we have read and enjoyed them all, so we weren't going to be picky at this point).  While she did find the first Artemis book, she accidentally grabbed the book you see to the left as well - Half Moon Investigations. Since we had not ever read this one before, and we were feeling adventurous, we decided to give Half Moon a go.  We made the right decision.
Half Moon Investigations is …
---
by Dec. 16, 2009 in Audio Books, Books, Fantasy
I am constantly listening to books on cd in the car.  Literally, all the time.  I do not listen the news, music on the radio, or music on cd.  I don't sit it silence as I make my way to and from work.  There is always a book on, and there is always at least one in queue.  I didn't start keeping track when this book on cd endeavor began (Thanksgiving of 2007, on a trip to Dallas) but if my memory is correct, I have listened to 68 books on cd since then, with 69 and 70 in the car at the moment.  This does not include multiple listens to the same book (which has definitely occurred with books in the Harry Potter and Artemis Fowl series.)
So with that said, why don't I have entries for all of these in the database since that is meant to be a repository of all the books I've read?  This may seem ridiculous, as some have pointed out, but I don't think it's fair to these books to put them in the database.  I don't pay nearly as much attention to them as I do to the books I actually read …
---