by Dec. 3, 2009 in Books, Fiction, Recommended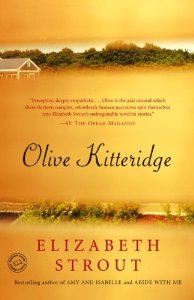 I knew nothing about Olive Kitteridge before reading it except that it was a Pulitzer Prize winner and that my sister-in-law enjoyed it when she read it for her book club.  I enjoy going into books blind this way, and try to do it whenever possible.  That's part of the reason many of my descriptions and posts here will be pretty vague.  I don't want to give away anymore than is absolutely necessary to get you interested in the book.
With that said, I'm not going to tell you anything about Olive Kitteridge except that it is a Pulitzer prize winning novel and both my sister-in-law and I liked it.
Okay, that's not all I'm going to tell you, but I won't give away the plot.  What I will say is that it is a refreshing novel that does interesting things with character development and narrative structure that make it worthy of all the praise it has received.  Give it a shot, especially if you love small town American fiction, and I doubt you will be disappointed.
"Nobody knows everything – they shouldn't think they do" (74).
---
by Dec. 2, 2009 in Books, Fantasy, Recommended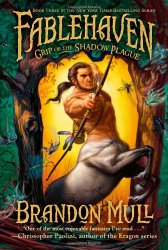 This is book three in the Fablehaven series. If you have read the first two, and are considering the third, it should come as no surprise that I recommend picking it up. So far each book has been exciting, imaginative, and non-stop entertainment.
If you haven't read any of the Fablehaven books and are wondering if you should start, I say yes. From the very beginning, I have been captivated by Mull's books. Plus, they are so quick and easy to read that, if you don't like the first one, it will only take you a day or two to finish the book and realize it's not for you.
They are each full of magic and wonder, and serve as an excellent palate cleanser between books that require more effort as the reader. That isn't to say Grip isn't good, or worthwhile, just that it serves to remind you how fun reading can be, like Harry Potter, and not how beautiful and heartbreaking a book can be the way I Am a Cat might.
Sorry, no quote on this one!
---
by Dec. 1, 2009 in Books, Recommended, Science Fiction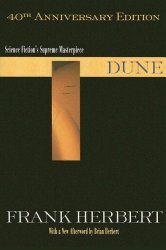 The first time I read Dune (this is the second), I remember it made me really thirsty. It also made me want to conserve water, so I stopped showering. I was in college at the time, though, so it was okay, no one noticed.
I didn't suffer the same level of obsession over water this time through, but I definitely still enjoyed it. I also had a theory, in college, that a connection could be drawn between Dune and Plato's Republic, but it didn't come through for me this time. It's probably still there, I just don't know my Plato as well anymore. If knowing I liked it enough to read it twice isn't enough of a recommendation, I will continue.
Dune is a very good book that is as much political infighting and intrigue as it is science fiction. There are definitely strong sci-fi components, but if you are a non sci-fi reader and can accept them, you will probably really enjoy the political aspects of this book. It may not be perfect (so close, though!) but it still holds its own as an enjoyable literary work, that may show non sci-fi readers ...
---
by Dec. 1, 2009 in Books, Nonfiction, Recommended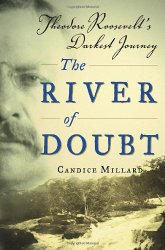 I actually received this book as a gift over a year ago. At the time, the subject appeared interesting, but I just couldn't bring myself to read it – there was always something else in my book queue that distracted me, or kept me from picking it up.
A few weeks ago, however, I was talking with a couple librarians (who are, by the way, always some of my favorite people to talk with) and they mentioned that I would be a good resource for recommending books, except for my lack of knowledge about nonfiction. I read widely on every other genre, but when it comes to nonfiction my experience is almost non-existent. With this motivation, coupled with actually owning this book already, I decided to finally give it a read. And am I glad that I did.
The River of Doubt tells the story of Theodore's Roosevelt journey down an, up to this point, unexplored river in the Amazon shortly after losing his bid for a third term as president. The journey itself is fascinating, and exciting to read about, but what makes this book great is Candice Millard's ability to bring each of the major players ...
---
by Dec. 1, 2009 in Books, Fiction, Recommended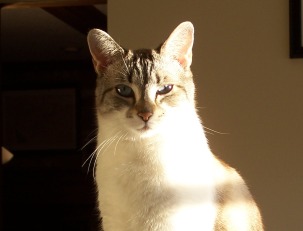 Before I started reading I Am a Cat, I was afraid that I would not be able to relate to it. After all, commentary and parody of the social upheaval in Meiji era Japan is not something that strikes me as approachable. It was immediately clear, though, that I had nothing to worry about. The cat himself was endearing and believable. Furthermore, the observations he made and the comments in general about humanity were not limited to Meiji era Japan, but rather things we could all relate to.
In terms of structure, I Am a Cat is actually a collection of 11 short stories, all told from the perspective of a nameless cat. His observations cover a wide variety of subjects, from the residents of his household, to local cat politics. Ultimately, I'm not going to do this book justice summarizing it here, so I'll let the cat do it himself:
"At ordinary times, most human beings are wearisomely ordinary; depressingly banal in appearance and deadly boring in their conversation. However, at certain moments, by some peculiar, almost supernatural, process their normal triviality can be transformed into something so weird and wonderful that no feline scholar of their ...
---
by Dec. 1, 2009 in Books, Fiction, Recommended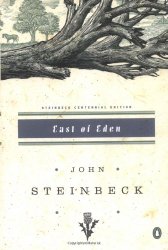 I borrowed this copy of East of Eden from my grandfather about ten years ago. I had just finished reading, and enjoying, Grapes of Wrath and so I figured this was an obvious next choice. Ten years later it turns out I was absolutely correct.
East of Eden tells the story of two families, Hamilton and Trask, as they live in Salinas Valley, California. It is both epic, and intimate. It does so many thing right, that it's hard to speak generically about it without giving away parts of the book that are better experienced first hand.
So, if you are a fan of Steinbeck's other works, don't hesitate to give this a read. It is fantastic. Even though it is the not the most recent book I have read, I'm leaving up here in the Featured Books section for now because it is just that good. And now, a quote from Samuel Hamilton:
"And I made a promise to myself that I would not consider enjoyment a sin. I take a pleasure in inquiring into things. I've never been content to pass a stone without looking under it. And it is a black disappointment ...
---