by Jan. 13, 2010 in Books, Fiction, Recommended, Science Fiction
I'm posting this later than I originally hoped, but oh well.  You'll forgive me, won't you internet?
I think it's safe to say that I read more in 2009 than any year before.  It was both fulfilling and motivating to record my thoughts on books after I finished them, and so I don't have any intention of stopping in the future.  To recap the year, though, I'd like to provide you with my top books of the year, and leverage the database to provide you with some fun stats!
This "Best books list" is obviously the best books I read in 2009, not the best published in 2009.  I am aware of the flaws of working this way, but I can't imagine any other way of dealing with it!
In 2009 I read...
33 books
11298 pages
1 Comedy (255)
3 Fantasy (889)
5 Nonfiction (1348)
5 Juvenile Fiction (2015)
8 Science Fiction (3061)
11 Fiction (3730)
Now on to my favorite books of the year:
Favorite Audio Book:
This is an easy category.  Of the 30+ audio books I listened to this year none came close to The House of The Scorpion.  This young-adult fiction book tells the story of a young clone who is forced to come to terms with his understanding of self as well as avoid the isolation and danger that comes with being the illegal clone of a powerful drug lord.  It is well-written, unexpectedly broad in its scope, and it handles difficult subjects with grace and maturity.  The narration is also excellent, and the numerous Spanish names and words are pronounced flawlessly, adding greatly to the immersion of the tale.
Favorite Book:
This was, easily, the best book I read all year.  Hands down, no questions asked.  I read a lot of great books, but none were as epic, as beautifully written, or as enthralling as East of Eden.  If you are dying to read even more of my thoughts on this fantastic work, check out the links below.  Beware, though, the database entry spoils the entire book!  Only check it out if you've already finished this wonderful book (and if you haven't, read it as soon as possible!):
Click here for my spoiler free thoughts on East of Eden.
Feel free to post your favorite books of 2009 in the comments below.
---
by Jan. 12, 2010 in Books, Not Recommended, Science Fiction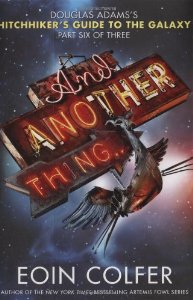 Eoin Colfer is an excellent author.  I don't know how to pronounce his name, but that hasn't stopped me from reading 9 of his books now.  My first introduction to Colfer was the Artemis Fowl series, which as of book 6, is still immensely entertaining.  I was afraid to pick up anything else by him, assuming it couldn't live up to the high expectations I had from the Artemis books.  Eventually I gave in and listened to Airman.  It was, quite possibly, even better than any and all of the Artemis books.
Even with Airman surpassing my wildest expectations I was shocked with how much I enjoyed Half Moon Investigations (more on this later - I just finished listening to this on cd).  With all that said, when I learned that Colfer was writing the sixth book in the Hitchhiker's Guide to the Galaxy trilogy, I was probably more excited than most Hitchhiker's fans.  I was confident that Colfer could pull it off.  He is, without a doubt, a talented, funny author.
I didn't like And Another Thing, and that makes me sad.  As I read through it, I wanted to like it.  I really ...
---
by Jan. 11, 2010 in Books, Recommended, Science Fiction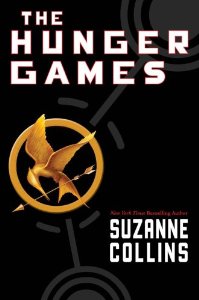 It's frightening to think about a book like The Hunger Games now that we are in year 2010 and officially in the future.  Normally when you read a book about a post-apocalyptic world in which an evil government forces children to fight other children to the death in order to show how much power they have, you can reassure yourself with the following: "Nothing to worry about!  That kind of thing only happens in the future."  Well guess what?  The future is now and, if Suzanne Collins has it right, it's brutal.
Well, maybe this future isn't here quite yet, but it's certainly something to think about.  Anyways, bleak children killing children future aside, The Hunger Games is quite captivating.  I received this book as a Christmas gift and finished it within just a few days.  It's an easy read, clearly meant for the teen reader, but great for any adult who wants to engross themselves in a world that is just far fetched enough to be exotic, without being ridiculous.
With that said, however, don't let my flippant attitude give you the wrong impression about this book.  It is brutal, with 20 plus ...
---
by Jan. 4, 2010 in Books, Fiction, Not Recommended
I remember when the movie Blindness came out a few years ago, I thought "what a fascinating idea - everyone in the world suddenly goes blind except for a single woman!"  Once I learned it was originally a book, I decided to forego watching the movie, and decided to just read the book it was based on.  It turns out I was right - it is a fascinating idea, if not repulsive.  Jose Saramago's vision of a society stricken blind is quite disturbing.
Unfortunately, while Blindness is a well-written, fascinating, disturbing book, it's simply annoying and unpleasant to read.  Saramago makes some stylistic choices (which I assume are meant to convey to the reader what it's like to lose one of your senses) that create an obnoxious reading experience.  Combine that with the disturbing content and it's officially not fun on all accounts.  With that said, however, if you love to see the depravity of the human spirit, and want a book structured so that it is purposefully difficult to read, Blindness is for you, and I recommend it with all confidence that you will "enjoy" it.  For the rest of us, don't bother.
"This is the ...
---
by Dec. 21, 2009 in Books, Nonfiction, Recommended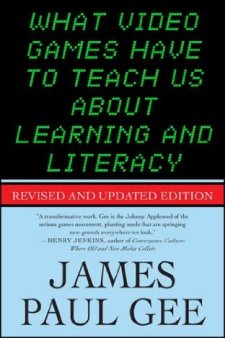 When I first received this book as a gift, I looked at the cover and thought "Cool, a book that will show how good and noble video games are!"  However, if I had read even the title a little more closely I would have realized that this isn't an apologist's book on video games.  It isn't meant to show how video games are good for us, and therefore should be played by everyone all the time (though they should).
So what is it?  Just as the title says, it's a book that looks at what video games can teach educators about learning.  After all, Gee argues, good video games are complicated, difficult, long, frustrating endeavors that children and adults will spend hours mastering.  Obviously they are doing something right to produce this type of effort.  The question then becomes, what we can we take from video games and apply to the current education process?  How can we apply the principles of learning so obviously evident in video games to schools?
Throughout the book, Gee goes into detail on 36 different principles of learning, how they are exemplified in video games, and why they are so important ...
---
by Dec. 18, 2009 in Books
On my last chart post, I asked if there were any suggestions for other data graphics and Shawn mentioned the idea of showing the transitions between genres.  In other words, do I typically read Fantasy or Sci-Fi after Juvenile Fiction?
In order to present this graphically, I thought a step line graph might work best.  You will notice that each "step" is a single instance of a book being read.  There are scenarios where two books of the same genre are read in a row, but the first Sci-Fi instance should give you an idea of the size of a single step.
I also ordered it such that genres were near those that are most similar.  Thus, more wildly different genres would be further apart, and would be represented by longer steps in the chart.
As you can see, there are not any obvious patterns that emerge, but that in and of itself is interesting.  It appears that I am pretty varied in my choice of genres and the order in which I read them.  There are some interesting things, though, such as the fact that I always read Fiction after Nonfiction, and seem to enjoy going from something weird ...
---
by Dec. 16, 2009 in Audio Books, Books, Fantasy
I am constantly listening to books on cd in the car.  Literally, all the time.  I do not listen the news, music on the radio, or music on cd.  I don't sit it silence as I make my way to and from work.  There is always a book on, and there is always at least one in queue.  I didn't start keeping track when this book on cd endeavor began (Thanksgiving of 2007, on a trip to Dallas) but if my memory is correct, I have listened to 68 books on cd since then, with 69 and 70 in the car at the moment.  This does not include multiple listens to the same book (which has definitely occurred with books in the Harry Potter and Artemis Fowl series.)
So with that said, why don't I have entries for all of these in the database since that is meant to be a repository of all the books I've read?  This may seem ridiculous, as some have pointed out, but I don't think it's fair to these books to put them in the database.  I don't pay nearly as much attention to them as I ...
---
by Dec. 10, 2009 in Books, Recommended, Science Fiction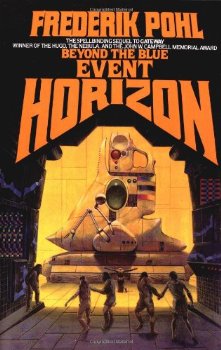 Beyond the Blue Event Horizon is a sequel to Gateway which I read (warning - spoilers) at the beginning of the year.  Beyond follows the characters from the first but, if you haven't read the first, that probably doesn't help that much so I'll give a brief outline of the universe in which these books are set.
Humans made their way into space, where they discovered the remnants of an ancient, super intelligent civilization.   Gateway is an asteroid from which people can launch into space in hopes of finding even more technology and thus becoming extremely rich.  Unfortunately, many people simply don't return from these flights.  In the first novel, Robinette Broadhead heads to Gateway to try his luck, and the sequel continues his story.
As I was adding this book to my "currently reading" section on Goodreads, I noticed a link to the author's (Frederik Pohl) blog.  I love the idea of authors blogging, especially if they have lead as interesting a life as Pohl has.  Definitely check it out of you are a sci-fi fan.
Speaking of being a sci-fi fan, you really need to be one to even consider reading this series.  While ...
---
by Dec. 8, 2009 in Books
One of the advantages of having a book database is that you can easily query statistical data in order to look at reading habits in a different way. It also allows for precision that would be extremely tedious otherwise.
After reading The Visual Display of Quantitative Information I realized that my existing selection of charts are, while not worthless, not as informative or useful as I would like them to be. Many of them have chart junk, they rely too heavily on pie charts, they are not focused on data-ink maximization and in some cases the information could be just as easily displayed and understood in a table.  (I still think the charts have worth, so I want to keep them up, but I am also open to any suggestions for improvement.)
So, with that realization, I decided to try to make something that would be more interesting, offer more insight, and conform to the rules of building good data graphics that Visual Display lays out for us. Below is my first attempt. It shows, by genre, the average number of pages read for each entry in the database. Yellow diamonds are books I do not recommend, while blue squares ...
---
by Dec. 4, 2009 in Books, Nonfiction, Recommended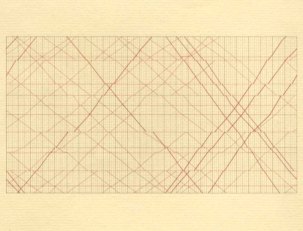 I had a dream about The Visual Display of Quantitative Information last night.  This isn't a normal occurrence.  What was most surprising, however, was that in addition to telling a coworker the title and author of the book, I also proceeded to accurately explain the book's main premise.  I even had some visual aids to help sell the argument.
I took all of this as a sign that I should add it as a featured book, even though I read it back in September.  Visual Display provides the reader with a clear, concise understanding of what it means to create high quality data graphics, and the best way to go about doing so.  I understand you might want to fall asleep even reading this brief description but trust me, it's fascinating.  Not only does it provide you with an actual set of tools to use if you are creating your own data graphics but it also gives examples that range from fascinating and beautiful to, literally, life saving.
Every subject deserves a treatment as loving and engaging as data graphics receive in Visual Display, and you should read them.  Since I don't know of any other ...
---