by Feb. 11, 2010 in Books, First Line, Fiction, Recommended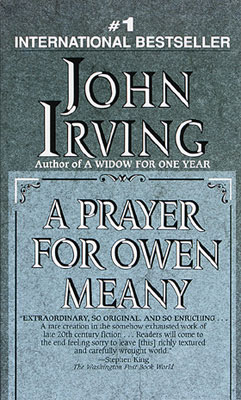 For this week's First Line let's see what John Irving has to offer in A Prayer for Owen Meany:
"I am doomed to remember a boy with a wrecked voice – not because of his voice, or because he was the smallest person I ever knew, or even because he was the instrument of my mother's death, but because he is the reason I believe in God; I am a Christian because of Owen Meany."
It's interesting coming to this first line after Jonathan Strange & Mr. Norrell last week.  In that case we had a short, subtle, straightforward sentence that was particularly good at setting the stage for tone and tempo.  It gave us some idea of setting and story, but for me, that wasn't it's primary purpose.
Here, however, we are thrown immediately into the story.  First of all, we know that our narrator (John, conveniently enough) will remember Owen, but not in a simple, reminiscing sort of way.  Instead, he is doomed to remember Owen.  The language here conveys a sense of inevitability or fate about the role Owen will play in John's life.
This idea is confirmed as John relays that Owen will be both the instrument of death for John's mother as well as the reason John believes in God and becomes a Christian.  Reading this immediately makes me want to continue with the book.  How was Owen the instrument of death for John's mother?  How can John forgive this and become a Christian thanks to Owen?  What happens that leads up to all this?
It's also interesting to compare this to last week because, where it would be easy to read the first line of Strange quickly and without much thought about how it is setting the stage for the rest of the book, Owen Meany begs for the reader to consider it more thoroughly.  Irving "spoils" what is to come because it is the journey to get there that is so fascinating in Owen Meany, not the events in and of themselves.
As you can see I think this is an excellent opening line, and upon looking at it for this post I wanted to start reading Owen Meany again.  For those who haven't read this before, though, what do you think?  Has it piqued your interest?  And for everyone, do you like when books give away a lot at the beginning in this way, or would you prefer they hold big plot elements until the very end, for a more grand reveal?
---
by Feb. 9, 2010 in Audio Books, Books, Fiction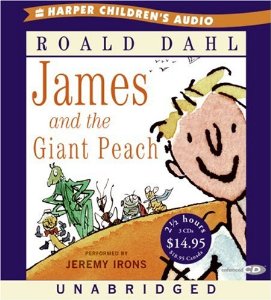 I just finished 2 more audio books in the last week: James and the Giant Peach by Roald Dahl and The Black Circle (The 39 Clues Book 5) by Patrick Carman.
First up - James and the Giant Peach.  This is another book that I'm sure I read dozens of times when I was growing up (or at least had read to me dozens of times), but had no clear memory of.  Obviously there was a giant peach involved, and I thought I remembered it flying, or something, but that was about it.
If you are in the same boat, you really should pick this up and give it a read.  It would probably take a couple hours at most, but it will be a fun, refreshing two hours.  It's obvious why this imaginative, exciting book is considered a children's classic.
Though James is entertaining in his role as the titular character, it is his giant insect friends who make the book.  I caught myself laughing out loud at their antics all the way up to the end.
As for the audio side of this audio book, Jeremy Irons is wonderful.  He brings each of the characters to ...
---
by Feb. 4, 2010 in Books, First Line, Fiction, Recommended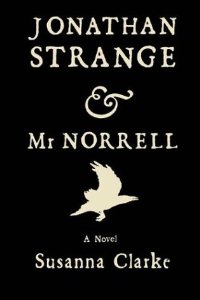 I think that far too often the first line of a book gets wasted on the reader (myself included). How often do we, when first cracking open a brand new book, stop to appreciate everything the author is trying to tell us right at the very beginning? Sure there are times when we are immediately captivated by some good writing, or by a novel that jumps right into the action, but do we really give enough time to what is literally setting the stage for everything to come?
With that in mind, I'd like to start a reoccurring feature on the blog: First Line. In these posts I will provide the first line of a book I have read (and hopefully many of you have as well) and discuss what it does right and wrong in context of the book as whole.  Don't worry, I won't be spoiling anything specific.  Instead, I'll be focusing on the tone, themes, etc. of the novel.  It's not exactly a review, either, because as we all know a book can start great and end terribly or start terribly and end great.  This is still in its infancy, so I ...
---
by Feb. 1, 2010 in Audio Books, Books, Fantasy, Recommended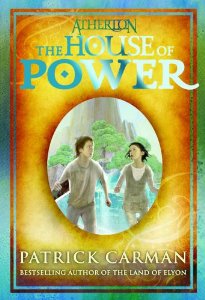 I absolutely hate not having an audio book to listen to in the car.  For over 2 years now I have exclusively listened to books while driving.  About a month ago, however, I found myself on the way to the grocery store just as I was finishing the last book I had in the car.  Desperate, I decided to stop at the nearest library to pick something up (typically I reserve books beforehand to ensure I get something of high quality).
I normally stop at a library near my office, so this was not one I had ever been to before.  While searching, I came across the book you see to the left - The House of Power by Patrick Carman.  This caught my eye because I have read and enjoyed The Land of Elyon which was also written by Carman.  It turned out to be a pretty good decision.
At this point I have finished all three books in the series (The House of Power, The Rivers of Fire, and The Dark Planet), and I enjoyed them all quite a bit.  The Atherton series follows the adventures of an orphan boy named Edgar who loves to climb.  He spends his ...
---
by Jan. 29, 2010 in Books, Fiction, Recommended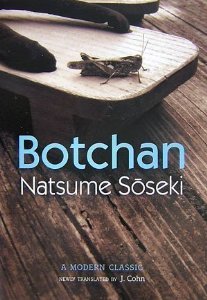 An introduction to a book can be a double-edged sword.  Sometimes it can be extremely useful and informative - as is the case with Botchan.  Here we have an introduction that reveals some of the subtleties of the translation that would not have been evident from the text itself.  For example the word Botchan, which is the nickname of the main character and narrator, can mean any of the following:  "a younger son; inexperienced or naïve; easygoing in a way that can either be mildly endearing or distressingly irresponsible" (5).
Clearly this is important information that is necessary to approach the text in a more fulfilling, meaningful way.  This introduction continues such usefulness as it gives clarification to the nicknames Botchan gives to his fellow teachers as well as some insight into why the book is so popular among Japanese readers.  All of this was interesting, without spoiling the content of the book.
On the other hand, sometimes introductions go a little overboard.  My favorite book to recommend, I Am a Cat is a perfect example.  At first the introduction seems to just offer clarification on translation issues but suddenly it gives away the ending of the book, and offers an ...
---
by Jan. 28, 2010 in Books
First of all, thank you to everyone who helped me pick the next book I'm going to read. If, somehow, you weren't riveted to the comment section of the last post, Robert Heinlen's Stranger in a Strange Land topped the charts with 3 votes.  This is only fitting, too, considering I've had this book for years, ever since Nathan let me borrow it, but have never been able to bring myself to start it.  Maybe this is the motivation I needed to finally sit down and read it.  Not sure what my hesitation was, since I've heard good things about it.
Second, so you realize I appreciated everyone's participation, I'll go ahead and read through my to-read stack in order of votes.  So that means after Stranger it will be Extremely Loud and Incredibly Close, In Harm's Way, and The World of Pooh, then on to The Gunslinger Born and A Brief History of Time.  I'll be posting my thoughts on each of these books here as I finish them, so keep an eye out for that if you've read any of them.  And if you haven't, hopefully I ...
---
by Jan. 24, 2010 in Books
The tower of books you see to the left is my to-read stack.  When I finish with what I'm currently reading (Botchan by Natsume Soseki - the author of I Am a Cat) I will be picking something from this list.  However, instead of using some arbitrary criteria that I'll come up with moments before I choose - I'm going to let you be the arbiter of arbitrariness for me.  That's right, you get to choose my next reading adventure.
All I ask is that you post a comment with the book you want me to read next.  You can give reasons, or just the title.  Or, if you want to pretend like you are ordering Chinese food, just the number from the list below.  Hopefully there will be an overwhelming majority, otherwise I'll have to come up with some other criteria to choose by, which would defeat the whole purpose of doing this!
I will be finishing my current book in the next 3 or 4 days, so you have until then to respond.
Here's the list in a format that is a little easier to read than squinting at the picture above:
---
by Jan. 22, 2010 in Audio Books, Books, Fiction, Recommended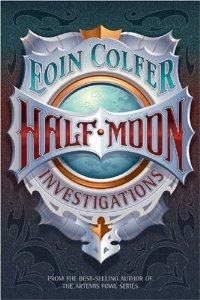 Before we headed to Pennsylvania for Christmas vacation, Vanessa and I picked up the audio book versions of the first Artemis Fowl, Harry Potter and the Goblet of Fire, and Harry Potter and the Deathly Hallows from our local library.  These were meant to be safe, guaranteed good listens for the many hours of driving we were going to have to do up north.  Unfortunately, I left them at home and when we arrived in PA, with a four hour drive looming on the horizon, we were feeling a little nervous.
Vanessa's mom, and her trusty library card, came to the rescue, however, and while we prepared for the drive she went to her library to pick up "any Artemis Fowl book you can find" (we have read and enjoyed them all, so we weren't going to be picky at this point).  While she did find the first Artemis book, she accidentally grabbed the book you see to the left as well - Half Moon Investigations. Since we had not ever read this one before, and we were feeling adventurous, we decided to give Half Moon a go.  We made the right decision.
Half Moon Investigations is the story ...
---
by Jan. 20, 2010 in Books
Yeah, yeah, it's Wednesday and I'm doing a Ten on Tuesday. I got in trouble for not doing this yesterday, even though it was about books. (Courtesy roots and rings via Kathleen and Megan).
1. Favorite book(s) as a child and why?
This might not come as a surprise to anyone, but the earliest book I remember reading for fun was Encyclopedia Brown. I always enjoyed trying to solve the mystery, and never seemed to mind the fact that I never could. I always wonder, if I read them again now, would I still be surprised by the endings? Are they logical and reasonable, or just outrageously ridiculous? I plan to find out when Lucas is old enough to enjoy them.
2. First "grown-up" book you remember reading?
For starters, I'm not even sure what this question means. Grown-up is in quotes, which might imply that it isn't meant to be serious. If that's the case, then it would have to be the expanded universe Star Wars novels I read in junior high. These are "grown-up" in the sense that their target audience is people (like me) who haven't ever grown up.
3 ...
---
by Jan. 19, 2010 in Books, Recommended, Science Fiction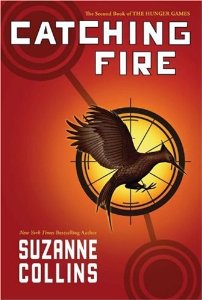 My friend Raina (a librarian) recently mentioned in a book review on Goodreads that the first book in a series has to be extremely good if she is going to read any sequels.  I found this interesting because this is absolutely not the case for me.  A book only has to be moderately enjoyable if I'm going to continue on in a series.  If I like even a single character, or if the plot is remotely interesting, I feel compelled to find out what happens next.
Is this a bad thing?  Sometimes, like when it results in reading terrible novels (His Dark Materials 2 & 3 come to mind), but for the most part I prefer it.  Sometimes it takes more than one book to really appreciate the depth of a character, or the subtleties of a plot.  Plus, I hate to think that I might miss out on a great sequel because of a bad first novel.
Regardless, this is all a moot point when it comes to Catching Fire.  The first volume in the series (The Hunger Games) is excellent.  No doubt if you read the first book, you've either finished the second already, or are ...
---