by June 8, 2010 in Books
Now that the database officially has 50 books posted, I thought it would be fun to throw together some stats to analyze my reading habits for the last 18 months.  I am also using this post as an opportunity to add the new Charts page to the wordpress blog.  It's basically just the old charts page, but edited and formatted for the main blog.
Note: all the stats below, as well as those on the charts page, are dynamically updated from the database, so regardless of when you read this, know that the information is up to date.
One of the first things that jumps to my mind when I think about my habits since December of 2008 is that I've been reading non-stop. But how much have I really been reading? Fortunately, I made an agreement with myself not to read two books at the same time, so by determining the number of days in each month that fall outside of the start and stop dates of a particular read, we can calculate this. The table below shows the breakdown, per month, since I started the book database.
-The stats are temporarily disabled as I transition to the new site.
Well, I hope you enjoyed that little bit of nerdiness. I'd post more, but my head feels like it's going to explode. Still, I'm always open for suggestions on additional stats, so let me know if you have any.
---
by June 7, 2010 in Books, Recommended, Science Fiction
It was probably 5 years ago that I read Ringworld - the tale of a group of 3 adventurers who are tempted to travel to beyond the known universe to explore a giant Ringworld in search of treasure and fame.  Unfortunately, that's about all I remembered about the first book, and so when I was looking to read the sequel last week, I decided to check Wikipedia for the details I could not recall.  To my great disappointment, Wikipedia had only an extended, spoiler free summary.  Yet another reason I wish I had started my book database years earlier!
Despite my failed memory and lack of information online, I went ahead and read The Ringworld Engineers.  In this sequel, Louis Wu and Chmee return, against their will, to the Ringworld in search of a mysterious object.  Louis and Chmee, however, spend most of their time looking for freedom from their paranoid Puppeteer captor.
Ultimately, not remembering the details of the first book was a minor point.  I wish I had, but only because I think it would have added depth to the development of Chmee and Louis Wu as characters.  As it was, I could only watch them grow within ...
---
by June 2, 2010 in Books, Fantasy, Not Recommended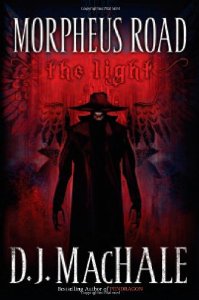 I love reading young adult fiction while on vacation.  Last Christmas I tore through The Hunger Games in less then 36 hours, and it was absolutely fantastic.  I didn't know much about The Light, but I have listened to the first three books in MacHale's Pendragon series, and they are good enough that I was willing to give this new series a chance.
The Light is, ultimately, a ghost story.  In fact, the book starts with a hip "I believe in ghosts now" intro.  From there, it follows Marsh, the main character and narrator, as he attempts to solve the various mysteries surrounding his haunting and his best friend's disappearance.
While The Light was the fun, light reading I was looking for in a vacation book, it was also extremely disappointing.  In spite of having an entirely different storyline and cast of characters, The Light felt exactly the same as the Pendragon books.  In fact, in terms of the main character, there wasn't anything to distinguish Marsh from Bobby Pendragon.
MacHale certainly isn't a bad writer, but I'm starting to get the impression that his versatility is severely limited.  If you aren't absolutely ...
---
by May 31, 2010 in
I apologize if you tried to access the blog/book database in the last few days. I was on vacation (which of course means lots of time to read) and I didn't immediately realize the site had gone down. Then, once I did discover the problem, I wasn't in any position to fix it. So, hopefully the issue was temporary and the site won't be interrupted for so long again any time soon.
With that said I finished 2 books while at the beach and should have at least those 2 posts up this week. Okay, non-book relate post over!
---
by May 25, 2010 in Books, Not Recommended, Science Fiction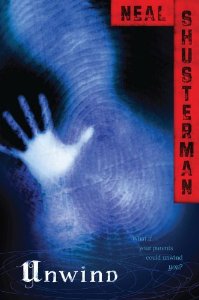 I learned about Unwind from a coworker whose son was reading it for school. Apparently there was some controversy among the parents. Having just finished Don Quixote I figured this would be great light reading to bridge the gap before vacation. While easy to read, this definitely wasn't exactly the light reading I had expected.
Unwind is set in a dystopian future in which America has fought its second civil war. Only this time, the fighting was over abortion. The war eventually ended with the signing of the Bill of Life. According to this document all life was protected from conception to the age of 13. From 13 to 18 a parent could choose to retroactively unwind their children. Unwind follows the story of 3 children who are set to be Unwound.
Unwind is full of interesting ideas and deals with the difficult subject of abortion with subtlety. However, the writing itself is just mediocre. It is worth reading if you want to start a discussion on abortion with a teen, but probably not otherwise.
In fact, the most interesting thing for me in regards to Unwind was finding the parallels between it and Jonathan Swift's A Modest ...
---
by May 17, 2010 in Books, Fiction, Recommended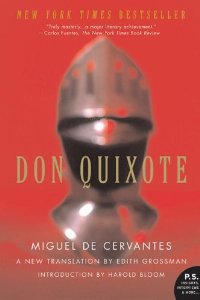 Okay, I confess I cheated; I decided to read only the First Part of Don Quixote.  This part, at 459 pages, is technically a complete book in its own right.  It was published in 1605, 10 years before the second part that makes up the other half of the copy you see depicted to the left.  I will get around to the rest of it eventually but, honestly, I just needed a break.
I feel bad saying I needed a break because I really enjoyed Don Quixote.  If you read my First Line post on Don Quixote you know I was having a blast halfway through the first part.  It was funny, intelligent, modern, and creative.
At about 300 pages in, however, Cervantes decides to interrupt what could have easily been the most interesting and entertaining part of the book with two complete novellas.  Seriously, he interrupts the action to tell two complete stories that deal with characters and plot that are entirely unrelated to Don Quixote.  To be fair, these stories are good, but at this point in the main novel I'm reading, I honestly just don't care what happens to these other characters.  I want to ...
---
by May 10, 2010 in Audio Books, Books, Fantasy, Recommended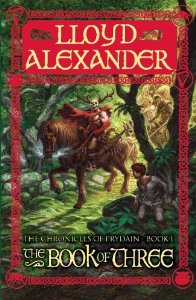 I can't exactly remember who or what referred me to The Book of Three.  All I know is a few weeks ago I received a "the book you placed on hold is now available" email from the library and so I went and picked it up.
The Book of Three tells the story of a young assistant pig-keeper named Taran who lives in a mythical realm known as Prydain.  If you have seen the movie "The Black Cauldron" you have seen a movie loosely based on this book.  (Interesting note - the second book in this trilogy is actually called The Black Cauldron, but the movie of the same title is based on the first book.  Go figure).  Anyways, Taran has to recover his lost pig, but ends up having a grand adventure along the way.
The story is your classic hero quest, but what makes this book so good is the plethora of interesting characters.  From the sassy and hilarious Eilonwy, to the pathological liar/bard/king Fflewddur Fflam, The Book of Three is absolutely bursting with entertainment.  By the end, the story was just a means for placing these great characters into situations in which they could interact ...
---
by May 5, 2010 in Books, First Line, Fiction, Recommended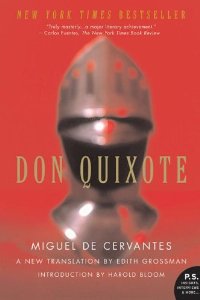 You might not be aware of this, but Don Quixote is a massive book.  As a result I will probably be doing multiple posts about it so that this blog doesn't screech to a halt while I work my way through it.  Note:  I'm reading the Edith Grossman translation. Also, I am already about 240 pages into the book, so this discussion is being informed by more than a blind reading of the first line.
"Somewhere in La Mancha, in a place whose name I do not care to remember, a gentleman lived not long ago, one of those who has a lance and ancient shield on a shelf and keeps a skinny nag and a greyhound for racing" (1).
First of all, I love the irony of Cervantes writing a 900+ page book about Don Quixote, but being unwilling to remember where in La Mancha he comes from.  Not just because it's inherently humorous, but also because it shows, immediately, the tone we can expect from the entire book.  Though this may be a classic work of fiction, it is not a dry, dusty tome that we must put upon a shelf and venerate from a ...
---
by April 26, 2010 in Books, Fantasy, Not Recommended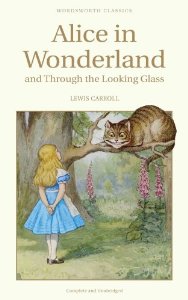 So I've done something for the first time since starting my book database - I've given up on a book.  I started reading Alice's Adventures in Wonderland over the weekend, put about 60 pages into it, and decided that was enough.  Don't get me wrong, I'm not saying the book is terrible or anything, but I just couldn't get into it.  It was imaginative, bizarre, and absurd (in a good way), but it didn't captivate me.
I realized I wasn't having any fun, and a book like Alice seems like it should be all about fun, so I've decided to move on to one of the many other books I have on hand.  What's interesting is it's definitely NOT the worst book I've read in the last two years.  I guess I don't think it's fair to read this classic when I'm clearly not in the mood for it.
My question for you, though, is "What's wrong with me?" Am I missing the innocent imagination of childhood required to become engrossed in Alice?  Or is it just something about my current mood that makes the ...
---
by April 23, 2010 in Books, Fantasy, Recommended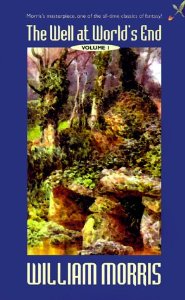 We spent Easter weekend with some friends in Denton, TX.  While there, I had the opportunity to go to the best used book store I've ever seen:  Recycled Books.   In addition to being clean, well-organized, and having the most amazing selection of books, they also had a wide array of collector's items.  As I was perusing the fantasy/sci-fi collector's section, my attention was drawn to The Wood Beyond the World by William Morris.  I glanced at it, saw that it claimed to be "the first fantasy novel ever written", but decided to put it back and picked up The Well at the World's End instead.  I didn't know anything about this book, but it fascinated me for some reason.  Plus, the back had a quote by C.S. Lewis saying it was great.  That, plus the $4 price tag, were enough to sell me.
All that said, I probably should have actually read some of the book to see if I would enjoy it, rather than buying it blindly.  I was quite shocked when I opened it up and the first thing I read was "Long ago there was a little land, over which ...
---